Vin Nyheder
Nyt Vinhus Mission Hill Estate, Okanagan Valley - British Columbia - Canada.
Det er lykkedes os at få en aftale på plads med en meget spændende vinhus der laver fantastisk kvalitets vin. Vinhuset Mission Hill Estate er placeret syd for Vancouver i området Okanagan Valley i British Columbia. Det er komplekse vine med høj kvalitet. Læs mere om vinhuset og den Canadiske vin historie efter introduktions tilbud nedenfor.

2018 Reserve Riesling fra Mission Hill Estate, Okanagan Valley - British Columbia
Our 2018 Reserve Riesling was farmed in two of our estate vineyards in West Kelowna and Naramata. Our West Kelowna vineyard, perched on the brow of Mount Bourcherie, an inactive volcano, has steep, hillside vineyards with a southeast aspect. Our Naramata Ranch vineyard enjoys the Okanagan Lake's moderating influence, which provides ideal growing conditions for Riesling and an extended ripening period.
Vibrant acidity and incredible freshness, complemented with crisp pear, green apple, juicy lime and a stony minerality.
Alc. 10,9%, Lagring: 100% stainless steel barrels, Drue: 100% Riesling

2018 Reserve Pinot Noir fra Mission Hill Estate, Okanagan Valley - British Columbia
Our 2018 Reserve Pinot Noir was farmed from our estate vineyards in Kelowna, West Kelowna, Naramata, and Oliver. The Lakeshore Vineyard in East Kelowna, first planted in 1994, is on a steep hillside that enjoys the lake's moderating influence and is ideally suited for this varietal. Naramata Ranch is a winemaker's dream with undulating elevations, multiple soil types and clones to select from, individualized blocks, and spectacular views.
A charming classic, our Reserve Pinot Noir delights with layers of red fruit and brambleberry. Delicate tannins, savoury notes and a subtle hint of herbal spice deliver a complex wine that is sure to enchant.
Alc. 13,6%, Lagring: 10 måneder på fransk oak, Drue: 100% Pinot Noir.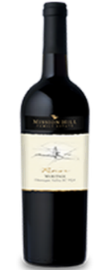 2018 Reserve Meritage fra Mission Hill Estate, Okanagan Valley - British Columbia
An early pioneer in the Okanagan Valley, today, Mission Hill Family Estate encompasses a broad spectrum of vineyard estates with more than 30 diverse microclimates. Our Reserve wines are handcrafted on the premise of "Selection" – selection in the vineyard and the cellar. Fresh blackberry, brambleberry, dark cherry and hints of vanilla with a refined and structured finish.
Alc. 14,5%, Lagring: 15 måneder på franske & Amerikansk oak, Drue: 45% Cabernet Franc, 44% Merlot, 9% Petit Verdot, 1% Cabernet Sauvignon, 1% Malbec.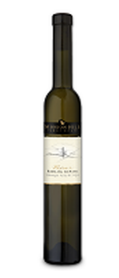 2018 Reserve IceWine Riesling (375ml) fra Mission Hill Estate, Okanagan Valley British Columbia
Our 2016 Reserve Riesling Icewine was sourced from our estate vineyards - Black Sage Bench in Oliver and Mission Hill Road in West Kelowna. Bright aromas of vanilla and citrus fruit announcing flavours of ripe pear, pineapple and hints of orange peel. The sweetness is offset by mouth-watering acidity. A definite treat for the senses. Alc. 8%, Lagring: Partially fermented in French and American oak (10%), sur lie aged for 2.5 months, Drue: 100% Riesling fra Okanagan Valley.
A History on Canadian Wine Making
Canadians have been making wine for over two centuries, but Canada's modern day success in the production of high quality vinifera-based wines goes back only a quarter century. What are the antecedents to Canada's recent success in producing award-winning wines?
The Early Years - 1800s
European settlers to Canada in the early 1800s tried to cultivate European grape varieties of the species Vitis Vinifera, but found their vines succumbing to diseases induced by hot, humid summers and severely low winter temperatures. However, the native species of grape vines that grew freely along the streams and amongst the trees that forested the wilderness ripened with healthy abandon. While research continued into the possibility of growing Vinifera varieties, the Canadian wine industry for the next 100 years was based upon those grapes that could be grown successfully from the native species (e.g. V. Labrusca and V. Riparia) and their varieties of American hybrids and crosses such as Niagara, Duchess, Concord and Catawba.
Table wines made from these native-based grapes had a peculiar taste, often described as "foxy" which, to those more tolerant, tasted like boiled strawberries, and to the more critical, like a throat-catching pitch. When fortified into sherry- or port-styled wines, however, their flavours were passable, the products were affordable, and their purchase accessible. With a steady export market to England, the wine industry in Canada, particularly in Ontario, grew, for a time, to be one of the largest in North America.
Early 1900s
Developments in the Canadian wine industry over the next 50 years would parallel other New World industries, particularly those in countries settled by immigrants from the British Isles and northern Europe who brought along with them a religious heritage — a "Puritan Ethic". The ethic advocated a strict adherence to an austere way of life, admonishing anything that interfered with the vital institutions of society, particularly the family. The consumption of alcohol was on the top of the list of socially-disintegrating evils. This attitude to the consumption of beverage alcohol — from tempering attitudes of restraint, to a non-negotiable insistence on total abstinence — was to have a major influence on the acceptance of wine as part of a healthy diet.
1960s
By the 1960s the market started to shift. Consumers began switching from a preference for sweet table and fortified wines to dryer, lower alcohol table wines. This forced Canadian and other New World producers who wanted to stay in business to transform their products to accommodate world trends. Coincident with this change in tastes, several factors were simultaneously playing a role in revolutionizing the modern wine industry: better technologies in wine growing and wine making, increased access to finer grape varieties and disease-resistant clones, and new centres of research and development dedicated to advancing the wine industry. The Canadian experience was no exception.
1980s
Three major events marked the eighties, each one occurring around the pivotal year of 1988 — free trade with the USA, a major grape vine pull-out /replacement program and the establishment of the Vintners Quality Alliance (VQA) standard.
The signing of the Canada/USA Free Trade Agreement in 1988, together with a ruling under GATT (the General Agreement on Tariffs and Trade), meant Canada had to abandon the protection it offered its wine industry. While many producers felt threatened, many more responded by reaffirming their belief in their capacity to produce premium wines, and redoubled their efforts to prove it. To adjust to new trade rules and to better assure competitive wines in the marketplace, Ontario and British Columbia growers, with the support of the federal and provincial governments, undertook a major program to replace native grape varieties with vinifera grapes. New vineyards were planted with only the finest varieties of grapes — Chardonnay, Riesling, Sauvignon Blanc, Pinot Gris, Gewurztraminer, Pinot Noir, Cabernet Sauvignon, Merlot, Cabernet Franc, and others.
During 1988, the Vintners Quality Alliance was launched in Ontario, culminating six years of voluntary initiatives by the leaders of Ontario's wine industry. Together, this group set the standards to which they agreed to comply in order to elevate the quality of Canadian wines and provide quality assurances to the consumer. British Columbia adopted similar high standards in 1990, under the VQA mark.
1990s
The 1990s was a decade of rapid growth. The number of commercial wineries grew from about 30 in 1990 to well over 100 by the end of the decade, and consumers began to recognize the value represented by wines bearing the VQA medallion. Canadian vintners continued to demonstrate that fine grape varieties in cooler growing conditions could possess complex flavours, delicate yet persistent aromas, tightly focused structure and longer aging potential than their counterparts in warmer growing regions of the world.
Canadian quality wines began to capture both domestic and international recognition not only in sales but in garnering an impressive list of significant wine awards, beginning in 1991 when Inniskillin won the Prix d'Honneur for its 1989 Icewine at the prestigious VinExpo, in Bordeaux, France.
Sales of VQA wines grew from virtually zero to over 10 million litres by 2000. Forecasts suggest that the industry can expect to grow by 10 percent annually over the next decade as new vineyards come into production.
Today
Today, Canada's wine sector is characterized by new investments in world-class wineries in both Ontario and British Columbia, aggressive new plantings of vinifera varietals, diversified wine offerings, new technology, expanding exports and greater recognition of its ability to produce fine wines at competitive prices. New access for Canadian wines, especially Icewine, in the European market, and expanding market opportunities in the USA and Asia are giving Canadian wines greater market exposure. In Canada, despite increasing import competition, sales of Canadian quality wines are increasing as consumers move up the quality/price scale.
In spite of a world glut of wine and aggressive competition in Canada and internationally, Canada's small wine sector (today), is enjoying considerable success and facing these challenges with a degree of optimism.
Mission Hill Estate Story:
Our goal at Mission Hill Family Estate is to ensure that future generations of farmers will continue to produce the Okanagan Valley's finest grapes and visitors will be able to enjoy the area's majestic beauty.

Sustainability is critical to that long-term success. As a family-owned winery with strict control over our operations, vineyards, and quality, we are able to infuse sustainability into a variety of stages both in the vineyards and at the winery.
Mission Hill was the first family-owned winery in the Okanagan Valley to have a full-time viticulturist. We share our knowledge with other small wineries to improve the overall balance in the valley.
We are an early adopter of the BC Wine Grape Council's "BC Sustainable Winegrowing Program" created in 2011.
We were an early adopter of drip irrigation systems to control vine growth and advance ripening sometimes between 7-14 days, which is critical for quality grapes in our short growing season. Additional impact is a 75% reduction in water consumption. Trials are occurring with micro-jet irrigation in selected blocks.
We manage a significant in-house composting program that promotes healthy microorganisms in the vineyard soil and reduces waste.
In our vineyards, unmanicured cover crops with a mix of grass, clover, and flowers are a soft approach to weed control, erosion, encourage beneficial insects, and enrich soil with nitrogen and other important nutrients.
Unlike most wine-growing regions, the Okanagan Valley has a very tight window span for growing superior wine grapes. The ripening season is short and meticulous decisions, like shoot thinning, shoot positioning, leaf pulling to allow for even ripening, and green drop, are required by the viticulture and winemaking team to ensure the quality we demand. This is another reason why we have four viticulturists on staff. Everyday they walk row-by-row, vine-by-vine, block-by-block, to monitor and react to a vine's natural development.
Vineyard pomace is composted and more than 50% is used to replenish our own vineyards and support a local nursery, the remainder is used for animal feed.
Our organic vineyards are part of continual experimentation and we have a separate procedure for handling that fruit in the winery to ensure that the strictest regulations are enforced throughout production and winemaking. We eliminated the use of chlorine, switching to ultraviolet light and ozone to sterilize the water and oak barrels.