The Other White 2014 Peirano Estate Vineyards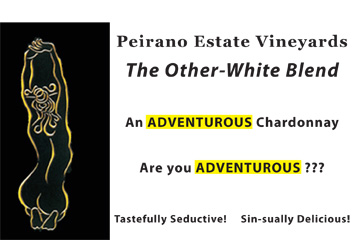 Vineyard Notes:
Making a truly wonderful wine begins with only the best estate grown fruit from the heart of the Lodi Appellation. We make sure our vines struggle just a bit, through techniques like deficit irrigation, to help concentrate the fruit flavors. Crop thinning, leaf pulling and vineyard management also insure full and proper ripening. We hand harvest into small bins to keep the fruit intact for its trip to the winery.
Winemaker Notes:
Once we have received the fruit at the winery, we keep each varietal separate through the entire fermentation and aging process, so each grape can fully express its true character. We then make several blends and sample each one until we have found one that is greater than the sum of its parts. We found this blend to be the best expression of our little corner of the Lodi Appellation.
Tasting Notes:
One is immediately struck by the vibrant color of this wine. The aromas of apples, pears, tropical fruit, and a whiff of bubble gum are complemented by hints of coconut and vanilla. Lush flavors of fresh ripe pears, apples, tropical fruit and homemade lemon pie lead to a long, totally seductive, finish.
Alc.; 13.5%, Drue; 65% Chardonnay, 25% Sauvignon Blanc, and 10% Viognier Estate Grown from Lodi, California.